We've reported quite a lot on GLSEN-Boston's activities over the years. What is Kevin Jennings' organization up to in other American cities?
QueerCincinnati

reports that GLSEN-Cincinatti's queer youth prom has been struggling recently -- but has been revived by inviting adults to attend. (Yes, you read that correctly.)
What adult would choose to go to a youth prom? (Well, the first "queer news" site listed on QueerCincinnati is

Manhunt.net

. Yikes. That might give an indication.) What if your local high school opened its prom to adults? Wouldn't that seem odd?
The GLSEN-Cincinnati website reads:
GLSEN's Prom is a chance for you to
bring who you want, dress how you want, and love as you want.
Against the backdrop of our collective impact, Prom 2009 celebrates LOVE. Just as GLSEN is about building respect in schools for all, Prom is about honoring love for all
.
The Boston version of the queer youth prom is run by

BAGLY

(the Boston Alliance of Gay Lesbian Bisexual Transgender Youth, run by a male-to-female transsexual) -- which works closely with GLSEN-Boston. GLSEN's GSAs (gay-straight alliance clubs in the high schools) funnel kids to this prom, ending the

Massachusetts Youth Pride event every May

. It's supposedly for "youth" 14-22, but there are always many adult GLBTQPIS activists mingling with the kids in the guise of chaperones, security guards, miscellaneous "entertainers" and "special guests" (such as

Mr. Boston Leather who was handing out his "business card"

to children in 2009).
Here are some of the adults appearing at the Massachusetts queer youth prom in recent years:
MassResistance report, 2009: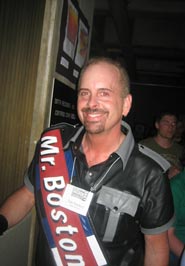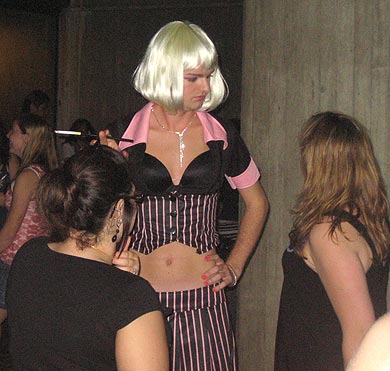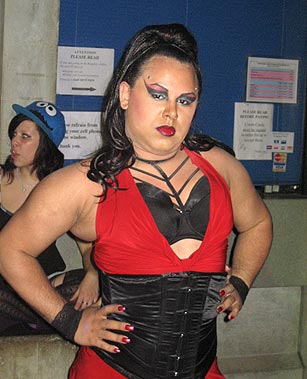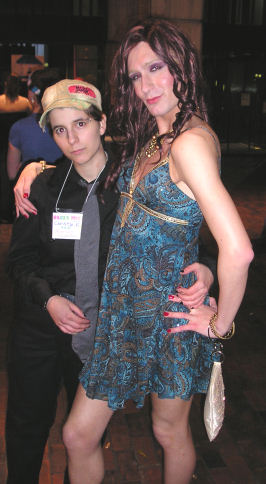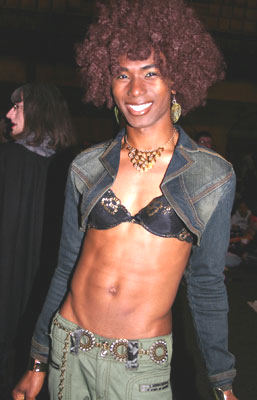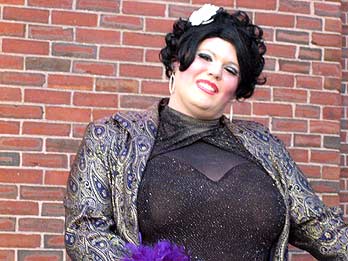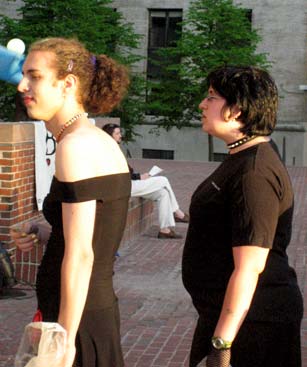 Cincinnati has a gay prom. No, really. And, from my brief experience with it, I believed that it was in … decline, but I will hand it to the current organizers that they are breathing life back into it. The current leadership of the Gay, Lesbian, Straight Education Network (GLSEN) here in Cincinnati has done very smart things to bring back the life to this amazing event that has benefited so many and could continue to do so,
so long as it changes with the time. What did they do? Open it up to adults.
It becomes not only an activism/fundraising event for a great organization, but
they have been able to separate out space for adults so that there can be that safety, and so that the "kids" can have their own special prom and the rest of us can have a great deal of fun in a health [sic] environment.
They've also been intelligent enough to not only put in social networking sites like Facebook … and they've tagged people to make sure others are coming. …
I mean, the only thing I'm really unhappy with about the whole approach and advertising thing is that it's referred to as an
alternative
prom, but I can understand where it comes from (and I'm not really upset about it, I am always amused about how the
LGBTSQI community
refers to itself, and how seriously we take referring to ourselves
as if being queer isn't campy enough
, we have to fight over how campy we get to be when talking about ourself). [sic]


And now? I'm really excited about going -- which, I'm sure, has nothing to do with having a date :-). I mean, really excited.
I have been before, but only as an exhibitor. I've never been as a participant, so I am a little nervous, but I'm finding myself thinking of all the little things I get to do that are going to make it a great prom for someone else -- where
do
I buy a boutinierre (sp?), should I rent a limo, and will anyone spike the punch. Of course, this time around, we can drink alcohol (being over 21 is nice), but I've given that up, so that will still be an experience I'll miss. I'm reverting to my 17 year old self and wondering if I should rent a tux, as well, and my roommate is asking if we get to do the whole pre-prom picture thing in someone's back yard.


… though I appreciate the prom conventions we are expected to follow and understand they are the basis for a heterosexist dating community, they aren't me.
 So, as an adult, I get to go to prom and really enjoy myself. Yea, yea, it's a little pricy -- $50 a ticket for us old people over 21 -- but it's going to a good group. And I'm encouraging all of you to join me, too. We'll dance, we'll listen to bad music, we'll take goofy pictures, and we'll have a whole lot of fun.

And, btw, we don't have to hang out with the kids all night long.
We get our own dance floor. :-)