The GLBT newspaper Bay Windows is reporting a claim of "gender identity" discrimination that supposedly occurred at Capone's Restaurant in Peabody in late January. What's missing from the story, "

Transgender discrimination alleged at Peabody eatery

"? PHOTOS of the people! So, we thought we'd help out. Some of the major players are pictured below.
The only photo in the front-page Bay Windows story was of the empty restaurant:
There, on the night of January 29, a group of men dressed as women entered the restaurant -- and were asked by staff to leave. The photo of the so-called "transgender women's" (i.e. men's) group involved helps us understand why. Here's the

"Sisters Family" group

, which was behind the restaurant invasion:
Above: "Ashley Amber Bottoms," head of the group that invaded Capone's, is on front right (pink top, miniskirt).
Below: Tall man on right is a member of the "Boston Sisters" – seen at the recent Transgender Lobby Day at the State House. (He's on far right in Sisters photo above.)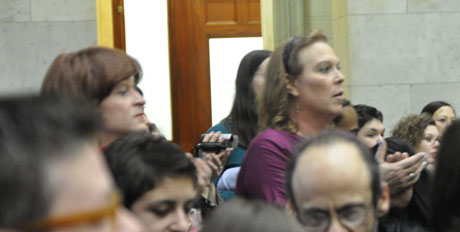 The women, members of the Sisters Family social organization for transgender women, held their normal Friday night ritual: a quick social at the bar of a local hotel, then out to another restaurant or bar to continue their evening. On Jan. 29, they chose Capone's. It was their fourth or fifth visit to the restaurant and while they report having had experienced gender-based discrimination in the past, the women say they had decided to try and get along with the restaurant's owner and staff. "They don't want us using the ladies' room," Ashley Bottoms, a member of the Sisters Family, said. "Some of the girls in our group, even though they're legally female...I said, 'look, let's just try to get along with these people.'"
Despite the group's resolution, they say the evening's events held only discord and disappointment. "I guess the doorman noticed us and he came to meet us at the door so we couldn't get in," Bottoms said. "He pointed to a sign that said you need proper ID to get into the establishment and I went, 'Not a problem, because we have our drivers' licenses! They've worked in the past.' He says, 'Well, your license needs to m

atch what you look like exactly.'"
Ashley Bottoms with a "sister"
Gunner Scott - head of Mass. Transgender Political Coalition.
Since there's a lot of talk of driver's licenses making the trannies' demands all OK – because they're really "women" -- we include a photo of hack Rachel Kaprielian, director of the Mass. Registry of Motor Vehicles. Kaprielian has made a

farce of official ID's in Massachusetts

, allowing unbalanced people to claim the identity of the opposite sex on their driver's licenses. (See

our report

on transgender IDs here.)
DAN REA (WBZ):
". . . to get a state certified ID drivers license that allows a person to pick a gender based on the gender the individual considers himself or herself to be." What's that all about?
KAPRIELIAN:
Well, I'm not sure exactly how he posed the question. What we're doing, or what I should be doing. One of the things that we do with the RMV is we change with new information, and currently we have revised that policy of what's called a transgender license, it's very obviously a limited number of individuals who are looking to change their gender designation. We used to require the reassignment surgery. And now it's the proof from a medical provider that the person has lived as that gender for a year, because that is concurrent with current medical practices and current laws of the Commonwealth.
According to Bottoms, despite the women's protests, the bouncer [at Capone's] wouldn't relent. "One girl offered to take off her wig to show what she looked like and I told her, 'No. You shouldn't have to do that to prove yourself to anybody,'" Bottoms said. Another transgender woman offered her license to the doorman, explaining that her DMV picture reflected the way she looks now; her long hair is natural. "The guy looked at us and said, 'but you're wearing makeup. I can't tell,'" Bottoms said. "And I went, 'you know that's BS, because girls wear makeup!'"
A third member of the social group is legally female, and produced a license to that effect. "And he looked at her and said, 'Nope, because you're really a guy.'"
According to Scott, those women who matched their ID's were told "that their skirts were too short."
Hooray for the bouncer! But what's really odd about this story is that Peabody is where the Marriott Hotel is located that gladly hosts the transgender conference, "

First Event

" – which just took place in January. So is Peabody a "welcoming" town or not?