"Safe Schools" czar Kevin Jennings founded and ran GLSEN. He was still executive director of that organization when it received special recognition in May 2007 at Massachusetts Youth Pride. GLSEN is behind the GSA clubs (gay/straight alliances) in the schools which funnel kids to this event. This is where GLSEN and Jennings want kids to be. We first posted this in a state of shock after seeing these huge, frightening transgender men mingling with children at that 2007 event.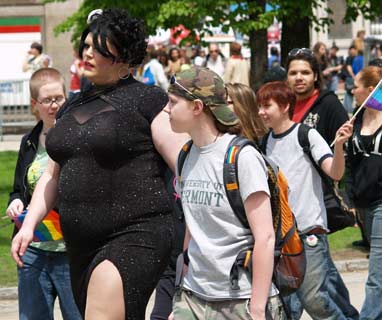 from MassResistance blog, 5-28-07:
Or, Why They Don't Want Us to Take Photos at

Youth Pride
Another
"Performer" at Youth Pride
on May 12: "Becca D'Bus"
Was this 35-year-old man, "
Princess Diana
" the
"performer" at YOUTH PRIDE
(see top photo) and
BAGLY
Prom?
Another apparently official "performer" at Youth Pride was the huge trans club entertainer calling himself "
Becca D'Bus
". See his YouTube video here.
["I'm not your f**king baby"]
GLSEN Boston also links to
Mr. Gay South Shore
(which posts pornographic photos), where you read: "Don't f*** with me, fellas. This isn't my first time at the rodeo!" Male - 27 years old - FALL RIVER." This links in turn to such "safe spaces" as "
Rock Hard Rocky
" (which goes back to Bobby's Place and Della Prescott). GLSEN Boston also links kids directly to one
David Goulart
, editor of
EdgeNewEngland.com
, a foul Internet directory of the worst sex clubs and even "circuit parties" (orgy destinations) -- and business partner of Boston's homosexual newspaper, Bay Windows.
THESE ARE THE PEOPLE, WEB SITES AND VENUES that GLSEN Boston and the COMMISSION on GAY and LESBIAN YOUTH are INTENTIONALLY leading teens to. HOW FAR DOES THIS HAVE TO GO BEFORE CITIZENS WAKE UP???

Now what if a group of heterosexual adults connected with the public schools, for example an athletic booster club, were to hold a fundraiser at some strip club in Boston? Or a porn theater? Would that pass public muster? What other group with privileged access in our schools could brazenly lead kids to sex hook-up clubs? What other "sexual orientation" could lead school children to pornographic photos of its desired sex objects? Why does the homosexual lobby get a pass on communicating its X-rated connections directly to children -- including personal, face-to-face introductions at Youth Pride?