Fistgate instructor Margot Abels had been with the Massachusetts DOE "Safe Schools" program for seven years by the time she ran the scandalous workshop documented at the GLSEN-Boston conference in 2000. That takes her back to 1993, the year the "safe schools" program began in the DOE. She had run "at least five" workshops similar to Fistgate prior to 2000, possibly going back to 1995 or even before (if she had done one yearly at the GLSEN conference). The Boston Globe reported:
"This is absolutely sanctioned by the department," Margot E. Abels told a reporter as 125 to 150 people* marched nearby in front of department headquarters to protest her firing. [*from the SEIU – see note below.] "It's not like the commissioner clears every word we say, but because we do our work based on research performed by the department, it's understood what we're going in there to do," said Abels, who had been the department's HIV/AIDS coordinator for seven years. "It's standard. There's nothing we did that was a secret. The department has always given us its full support - until now."

Abels, speaking publicly for the first time since being fired May 19 by Education Commissioner David P. Driscoll, said she has led at least five other workshops that were extremely similar to Teach Out 2000, which took place at Tufts University on March 25 - all without protest from her superiors. …
("Protest over a firing," Raphael Lewis, June 2, 2000; emphasis added.)
It was in 1992 that Kevin Jennings joined radical David LaFontaine at the Governor's Commission on Gay and Lesbian Youth, to "run its education committee" – which set up the "safe schools" programs in the Department of Education. From Jennings' memoir, Mama's Boy Preacher's Son (p. 196):
… in the spring of 1992, [Governor Bill] Weld just decided to appoint one [a Commission on Gay and Lesbian Youth] under his own auspices [via Executive Order], and to call it the Governor's Commission on Gay and Lesbian Youth.

David [LaFontaine]

was asked to chair it. Having heard about GLSTN [now GLSEN], he was calling me to ask me to run its education committee. It became quickly apparent that many commissioners had little or no knowledge of youth, and that the ones who did came mainly from social services and knew little about schools. Basically, I was being handed the school portfolio and asked what the governor should recommend.
Isn't it safe to assume that the head of the education committee worked directly with his HIV/AIDS "sexuality educator," Margot Abels, as they designed the queer sex curriculum?
Are we to believe that Jennings' ideas on content and methods would be less radical than the DOE employees'? When Abels said "it's understood" what she did in her workshops, are we to believe that her superiors at the DOE understood it, but the mastermind of their "Safe Schools" program, Kevin Jennings, did not?
According to Jennings' "partner", while he was a teacher at Concord Academy, Jennings
was very close to his students. They came to "worship him." They called him "Kevin". "He disrespected the entire, like, Mr. Jennings thing that we all had to grow up with. … No stories were ever forbidden when he was there." That says something about Jennings' teaching "methods" – doesn't it?
LaFontaine, Jennings, Abels. Hardly a "grand conspiracy theory." What we're talking about is a small group of hugely dedicated radical activists with a lot of time on their hands to make mischief, who worked very closely together to launch the Massachusetts homosexual youth indoctrination and sexualization program.

Jennings continued to be closely connected with the Boston scene even after he moved to New York to start up a national GLSEN office. The GLSEN-Boston chapter was its "mothership". He was keynote speaker at the Fistgate conference in 2000. Here is Jennings with Wallace Bachman (see Bachman's photo in conference program, p. 2), then Executive Director of GLSEN-Boston, at the Fistgate event: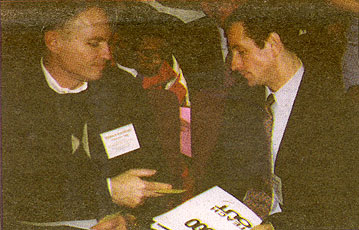 [Photo: Massachusetts News, May 2000 Special Report, print ed.]

Margot Abels' position was "HIV/AIDS educator" at the DOE. One of her supervisors–surely known to Jennings -- was Kim Westheimer, variously listed as "School Program Coordinator" and "Director" of the "Safe Schools" programs in the DOE (at least as early as Gov. Cellucci's administration 1998-2000, and possibly earlier).
According to a letter by Westheimer (written in 2001), Bachman (GLSEN-Boston director) defended Abels and opposed her firing in 2000. Was Bachman out of step with Jennings, his superior as national GLSEN director? Jennings may have made a CYA statement immediately after the Fistgate story broke, but what about in the months thereafter?
There's only one HIV/AIDS "queer sex ed" menu, Jennings designed it, and Bachman and Abels picked from it.
In her March 2001 letter (written just prior to that year's GLSEN-Boston conference, "Fistgate II"), DOE "Safe Schools" program official Westheimer stated,
"Our challenge as a community is to find ways for explicit education to take place as well."
The Westheimer language which supports "explicit" sex education belies the DOE's official distancing from what went on last year at Fistgate. Interestingly, at the particular workshop last year which was tape-recorded by the Parents' Rights Coalition (PRC) [now MassResistance] and where kids were given explicit homosexual instruction on fisting and other sexual practices, 55 minutes passed before there was any mention of AIDS/HIV.
Westheimer wrote, "When PRC launched their campaign against GLBT youth last year, GLSEN Boston and Wallace Bachman [GLSEN-Boston Executive Director] in particular were among the few organizations or individuals who spoke up publicly against PRC, against DOE firing, and in support of providing AIDS/HIV and sexuality education for GLBT youth. Not many organizations spoke out in support of GLSEN or the DOE employees who conducted the workshop." [emphasis added]

When Westheimer wrote about this "explicit education" in HIV/AIDS and queer sexuality workshops, what could she have in mind? How many specifically "queer" sex acts are there? Let's see: anal intercourse, fisting, tribadism, "water sports", "pig play," rimming, sex in the bushes, sucking … Did we leave any out? So the repertoire the GLSEN-Abels workshops would bring up is pretty clear.
Remember: The workshop was billed as queer specific. Abels said the whole point was to answer any question the kids might ask about queer sex when uninhibited. This attitude and approach would not have changed since the time Jennings designed the curriculum in 1992-3. In Kevin's classroom, "
no stories were ever forbidden."
A Boston Globe story maintains that Abels' Fistgate workshop was sponsored by GLSEN, not the DOE:

The workshop at Tufts, designed to answer explicit sexual questions from teenagers too embarrassed to ask them in school, took place on a Saturday and was sponsored by the Gay and Lesbian Student Education Network, not the education department.
Abels, however, insists that the department knew of and supported her work. The department "shamefully caved in to orchestrated pressure and heinous threats against Ms. Abels at the expense of her constitutional rights," said Betsy Ehrenberg, Abels's attorney. ("Educator fired for sex discussion sues," Scott S. Greenberger, November 28, 2000.)
But Jennings had a hand in both sponsoring groups, as national executive director of GLSEN, and as designer (and likely ongoing informal consultant, at least) of the DOE's HIV/AIDS queer sexuality curriculum. Either way, the buck stops with Kevin Jennings.
The Abels workshops would not have changed significantly between 1993 and 2000 (and probably only varied depending on what questions were asked). Abels confirmed this. Queer sex is queer sex.

So it's silly to suggest that Jennings would not have known the general content, topics, and style of the her workshops.
And yes, Media Matters, there is a grand conspiracy. It's called the homosexual agenda.

*Note: On the SEIU role in Abels' complaint, see:

Boston Globe
, "Protest over a firing,"
Raphael Lewis, June 2, 2000: "This is absolutely sanctioned by the department," Margot E. Abels told a reporter as 125 to 150 people marched nearby in front of department headquarters to protest her firing. [SEIU]
Bay Windows
, "
Protest planned over DOE firing of educators in sex-ed workshop," Laura Kiritsy, June 1-7, 2000
:

Recently fired over the flap about a workshop on gay sexuality, former Department of Education employee Margot Abels is fighting for her job and her labor union [SEIU] has organized a June 1 noon protest at DOE headquarters in Malden to draw attention to what it contends was her unwarranted termination.
Boston Globe,
"Arbitrator rules against dismissal of sex educator," Scott S. Greenberger, August 22, 2001:

The Service Employees International Union challenged Abels's dismissal and took the case to arbitration.